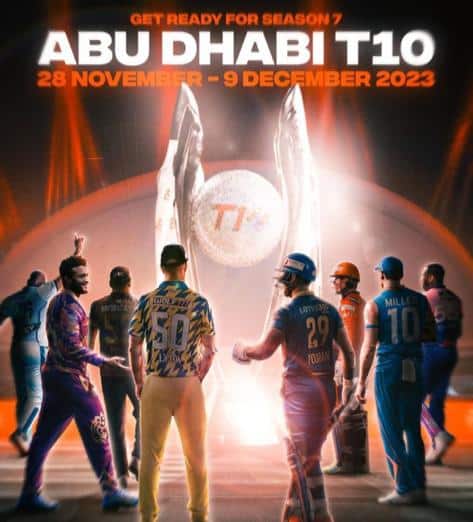 In 2017, the T10 cricket format, sometimes referred to as the Ten10 League, was introduced. Being played with only 10 overs on each side, it is the shortest format of cricket in the world and is a fast-paced, high-scoring variation of the game.
Owning and operating the T10 League is UAE-based company T Ten Global Sports. The championship matches are held in Dubai and feature top-level cricketers from all over the world. In recent years, the T10 League has become quite famous due to its distinctive format and action-packed games that attract spectators from all over the world.
The T10 League, a professional cricket league featuring some of the best international cricketers from around the world, is owned and operated by T Ten Global Sports, a company based in the United Arab Emirates. A businessman and cricket enthusiast named Shaji Ul Mulk launched the company in 2017.
Legendary cricketers who have left the international format will compete in the exhilarating 10-over contests, alongside young players who have just started their cricket career, a item from the Hindustan Times stated. One of the main organizers of the American edition and partner of the League, Ritesh Patel, owner of the SAMP Army Cricket franchise, said he was "excited to bring this fast and explosive cricket format to the United States. The players who participate in this tournament have a huge following around the world and this is a great opportunity for American fans to witness this for the first time on American soil.
Spencer Dinwiddie, an NBA superstar, will be a member of the Morrisville Unity team.
In the NBA (National Basketball Association), Spencer Dinwiddie is a professional basketball player who is now with the Washington Wizards. He was born in Los Angeles, California on April 6, 1993, and played college basketball at the University of Colorado.
Dinwiddie was selected by the Detroit Pistons in the NBA lottery in 2014 and, prior to joining the Washington Wizards, had played for the Brooklyn Nets. He is known for his versatility, which allows him to fill a variety of positions on the pitch, as well as his ability to create plays and score goals.
According to NY Giants NFL player Kayvon Thibodeaux, "I'm thrilled to be a part of a growing international sport of cricket coming to America."