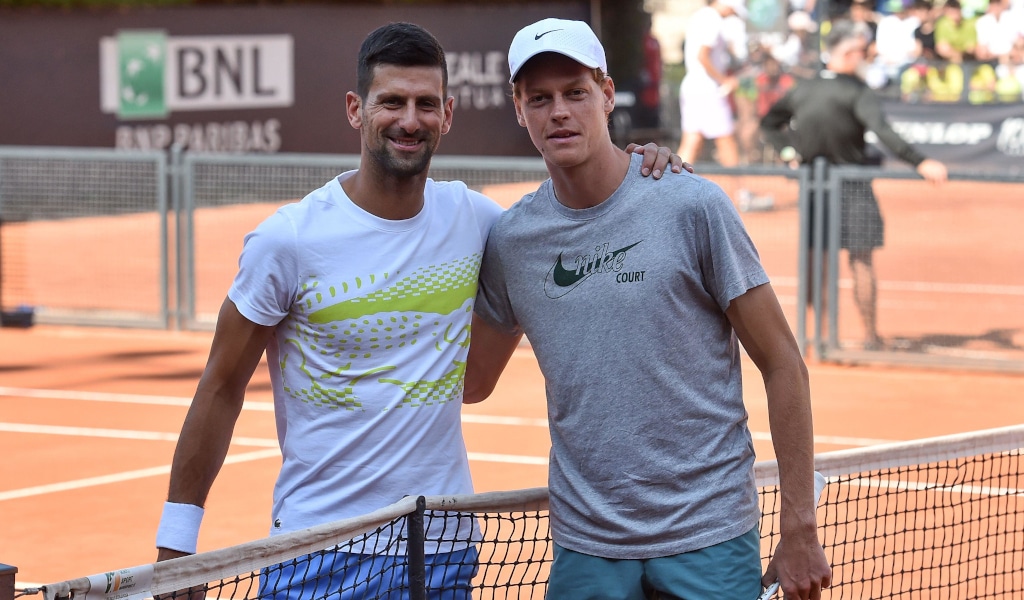 Novak Djokovic appears to have shaken off the elbow injury that has been bothering him for the past few months and is set to return to action this week at the Italian Open.
The world No. 1 has been struggling with the injury since the start of the clay-court season at the Monte Carlo Masters in early April and was forced to skip the Madrid Open last week.
However, the medical team is fit enough to defend his title in Rome and after arriving in the Italian capital on Tuesday, he took to the private practice court at the Foro Italico to train hard with Jannik Sinner.
According to the official website of the Italian Open, the session "was played with great intensity, to test his condition" and lasted for an hour and a half for several "terrible exchanges".
The black arm sleeves worn by Monte Carlo and Banja Luka to protect his elbows were gone and he did not appear to be in any discomfort during the event.
He needed some work on his neck and shoulder muscles from physiotherapist Claudio Zimaglia, but that seems to be part of his normal training routine.
The match ended with Djokovic winning the third game 6-3.
The 22-time Grand Slam winner will face either Luka van Aschen or Thomas Etcheverry, who he upset at the Serbian Open last month, in the second round in Rome. Aliasim in the quarter finals.
He could face Siner, who opened his campaign against Thanasi Kokkinakis or Joaume Munar, in the semi-finals, but the eighth seed will have to get past the likes of Karen Kachanov and Kasper Ruud heading into the last four.
Sinner is set to play the Barcelona Open for the first time since falling ill. He was forced to skip the quarter-finals and also withdrew from the Madrid Open.
"I'm pretty good to be honest," he told ATP Media. "After some very long races, I took a little break, which is a good sign, I did a lot of good work. [results].
"The start of the tournament was good, I'm happy to be back here, especially Rome. It is a clear competition for all Italians and for me too. Physically, we've worked hard for a week now and I'm happy to be here.
Read more: Novak Djokovic may face doubles ahead of French Open