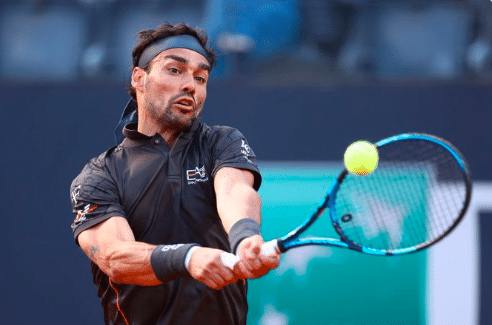 In a grueling match that lasted nearly three hours, 35-year-old Fabio Fognini narrowly defeated his counterpart, Andy Murray, in the first round of the Italian Open.
Fabio Fognini, who received a wild card, defeated Andy Murray in the first round of the Italian Open after being out of action for a month with a foot injury. In a nearly three-hour battle on Center Court, Fognini produced a superior performance, picking up more than twice as many winners as Murray, with a final score of 6-4, 4-6, 6-4.
Despite picking up a win at an ATP Challenger event in France, Murray was unable to match Fognini's deft shooting, especially his effective drop shot winners. Murray was unable to break down Fognini's well-executed shots, which ultimately cost him the game.
Andy Murray expressed his disbelief at a call from the chair umpire during his match against Fabio Fognini, asking: "How can you see that ball from in there? How is that possible?" Despite Murray's complaints, Fognini ultimately emerged victorious, winning 6-4, 4-6, 6-4.
After the match, Murray continued to express his frustration with the referee, while Fognini appeared to express his desire to continue competing, writing the message "It's not over" on a camera lens. Despite the match controversy, Fognini noted that he enjoys playing in these types of games and improved his record against Murray to 5-4.
Despite facing several surgeries in recent years, three-time Grand Slam champion Stan Wawrinka proved that age and injuries couldn't stop him as he moved closer to the second round of the Italian Open.
With the fire still burning, Wawrinka admitted he needed more wins to boost his confidence, but his game was already at a high level. He now faces Grigor Dimitrov, with the potential to set up a thrilling showdown against world number one Novak Djokovic in the third round. The Swiss superstar dreams of holding another trophy, and with her passion and love for the sport even more intense than ever, she continues to push her limits.
Fognini beats Murray in a thrilling match
In 2023, Rome, Italy will host the Italian Tennis Open. It is part of the ATP World Tour Masters 1000 and WTA 1000 series, and is one of the most important clay tournaments in the world. The tournament will feature the best men's and women's tennis players vying for the championship. The Italian Open, which has an illustrious history, beautiful location and devoted spectators, is known for its thrilling matches and competitive atmosphere.
Fognini has won 10 ATP singles titles, including the prestigious Monte Carlo Masters in 2019. He is also successful in doubles, where he won three championships. Despite his ability on the pitch, Fognini has a history of playing inconsistently and has come into conflict with the law, incurring fines for bad behaviour.
Andy Murray Throughout his career, Murray has achieved numerous accolades, including winning three Grand Slam titles, two Olympic gold medals and the world No. 1 in the ATP rankings. Despite dealing with setbacks and injuries, Murray has persevered and has become a symbol of resilience and determination, inspiring fans around the world.